From a one-man company to a group of companies with eight locations and more than 400 employees: Since its foundation by Mr. Robert Müller in 1949 in Hülzweiler, the group of companies continues to grow steadily and sustainably, without forgetting its inner values and goals as a traditional family business.
As a guarantee of success, the satisfaction of our customers is for us the measure of all things. That is why we are where we are needed and offer what is needed. We therefore invest in locations, technology, ideas and markets, find innovative customer solutions and continually expand our service – as we have been for several years now.
| | |
| --- | --- |
| 2022 | Ferdinand Heinrich Logistik GmbH merges with Robert Müller GmbH and continues to operate as a branch. |
| 2015 | A new location is taken over in Chemnitz and a new 3,000 square meter logistics facility is built in order to further strengthen the company's presence in Eastern Germany. Thereby the Robert Müller Group is now represented in the 24 plus logistics network system network with five locations. |
| 2011 | The Leipzig branch also becomes a system partner in the general cargo cooperation 24plus logistics network. |
| 2008 | The business in the Hamburg branch is expanded by the founding of Ferdinand Heinrich Logistik GmbH and expanded by the know-how and networking of the old traditional company Ferdinand Heinrich GmbH & Co KG. Thus, the Hamburg location becomes partner of the system of 24plus logistics networks. |
| 2007 | The Dresden branch is welcomed as a permanent system partner of 24plus logistics network. |
| 2004 | After Poland's entry into the EU, the Robert Müller Group establishes a branch in Breslau/ Wrocław in order to be able to offer transports to and from Eastern Europe more quickly and efficiently from now on. |
| 2003 | By establishing new branches in Paris and Dijon, the RM-Group further expands its French transport operations. |
| 2001 | The The head office in Saarlouis is the first location to become a partner and permanent system partner in the general cargo cooperation 24plus logistics network, which can ensure a nationwide network throughout Germany and Europe with around 60 partners. |
| 2000 | The newly built head office of the Robert Müller Group is inaugurated in Saarlouis. With about 5,200 square meters handling hall and around 2,000 square meters office space, the existing capacities will be tripled. |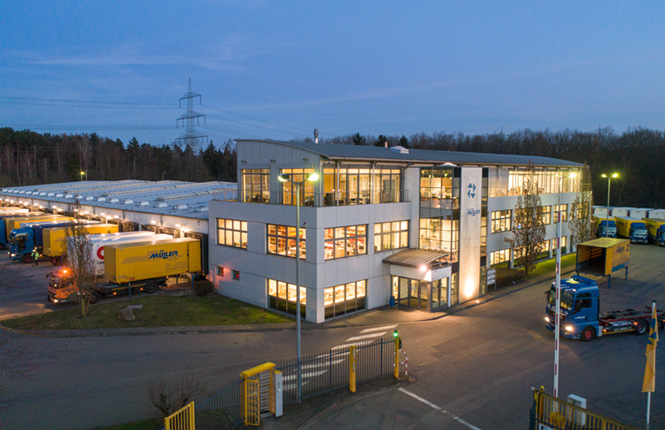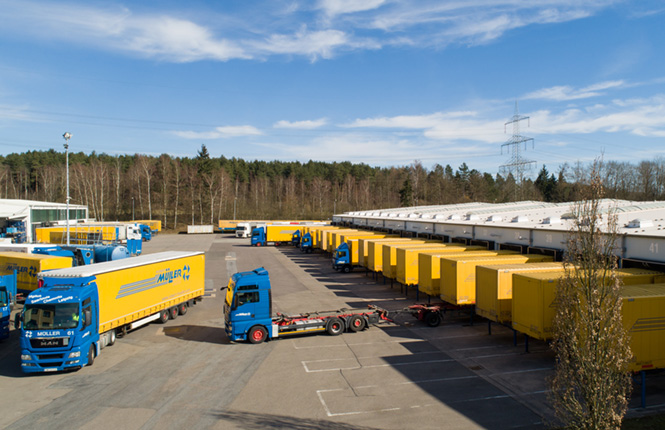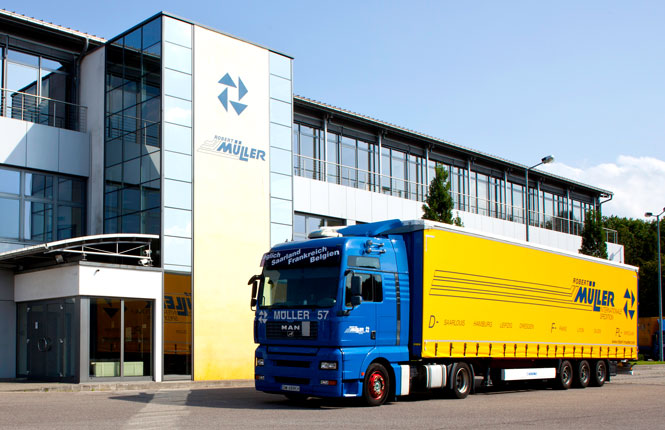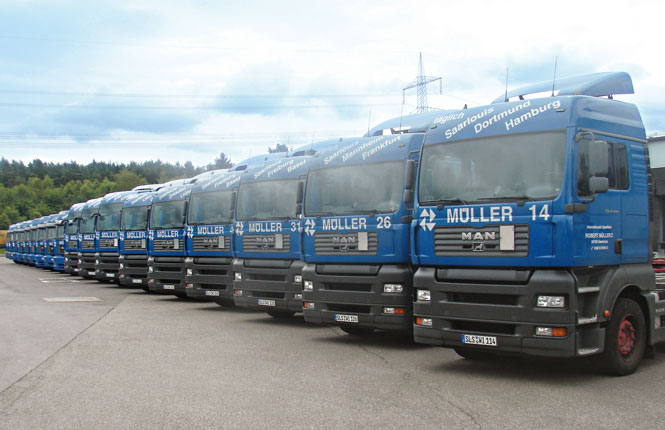 ---
1996
The company's quality management is certified according to DIN EN ISO 9001:2000 for the first time.
1995
The group of companies is the first and only German logistics company to become a partner in the French general cargo cooperative RÉSO, thus strengthening its Franco-German transport network.
1993
As an early adapter, Robert Müller introduced barcode technology early on, thus continuing the professionalization of the general cargo business.
1992
The expansion expansion continues. General cargo traffic is expanded throughout France and a first branch is established in Lyon.
1990
A seven thousand square metre logistics hall is built in Saarlouis to ideally meet customer requirements and to expand the company's range of services with new logistics concepts.
At the same time, two branches are founded in Leipzig and Dresden.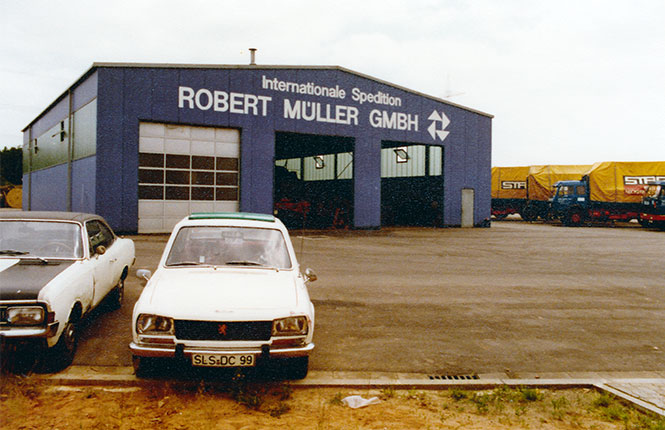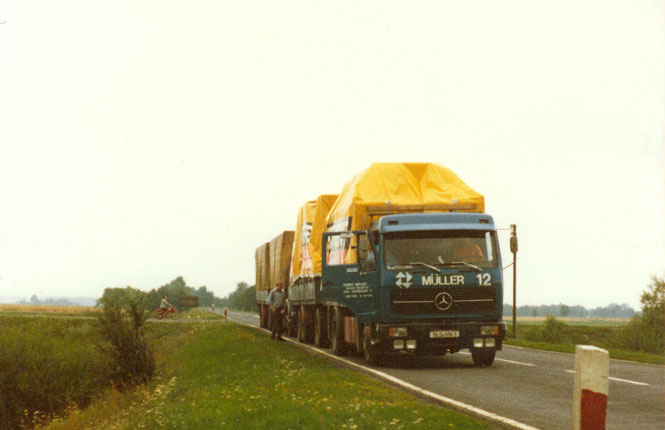 | | |
| --- | --- |
| 1988 | A modern and progressive handling hall is being built in Saarlouis to simplify and improve the ever faster growing general cargo traffic. |
| 1983 | The first swap body vehicles are purchased for the fleet to make combined and scheduled services more efficient and easier. |
| 1982 | The first branch is founded in Hamburg and supplements the portfolio with overseas activities. |
| 1975 | Due to the constantly growing transport volume, a new office complex is being built in Saarlouis, where a team of 30 people can now take care of the needs of customers. |
| 1950 - 1960 | The 1950s and 1960s were characterised by the expansion of the company's own vehicle fleet and the establishment of regular transports to northern Germany, in particular Hamburg and throughout France. |
| 1949 | Robert Müller founded a private company of the same name in Hülzweiler with a former military maintenance truck acquired in the post-war period. |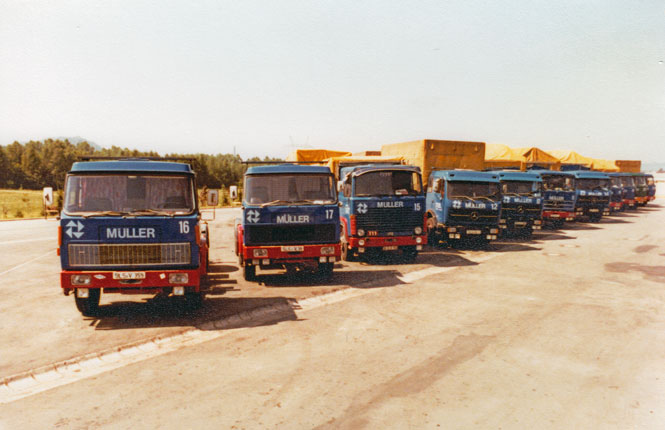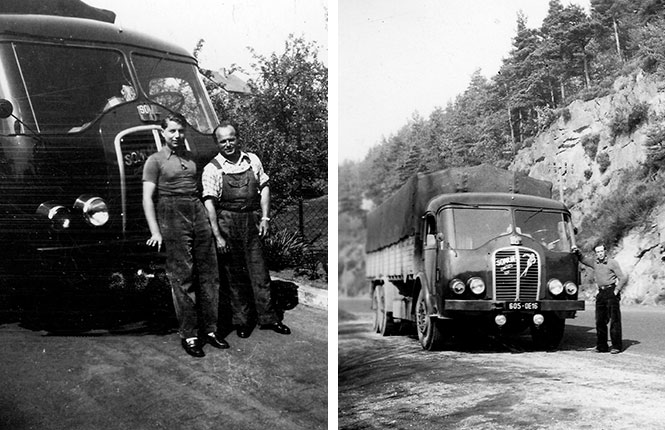 ---